Landmark Realty is located in Daviess County, near Gallatin, Missouri. The business has been family owned and operated since 1997.
We specialize in the agriculture side of land sales due to our background in the farming industry. We are a Full Service Realty representing Buyers and Sellers and are committed to maximizing our clients' investment. Whether it be a small acreage to build on, a large farming operation, hunting or vacant land, residential or rural home, or a home on the lake we are here to serve you!
At Landmark Realty we believe in building relationships for a lifetime! We are proud to say that a large portion of our business involves referrals from past clients who are truly satisfied with our services. We are always available to offer you personal, one-on-one help with what might be one of the biggest decisions of your life. If you have any questions, please don't hesitate to call or e-mail us!
Tina Boyd Esbeck, Broker
Cell: 660.663.9600     [email protected]
Tina has been the Broker/owner of Landmark Realty since 1997. She has built a solid foundation of repeat customers through her sincerity and commitment to detail. Tina is passionate about the needs and goals of her clients and has consistently shown the ability to satisfy clients in the buying and selling of properties. She has an extensive knowledge of the land and many have sought her advice and trusted judgment on many deals. Tina is family oriented with a devotion to God, her husband and children, and loves being a grandma. She has called Northwest Missouri her home for over 40 years. Five words you can count on from Tina Esbeck — love, integrity, commitment, honesty, and passion.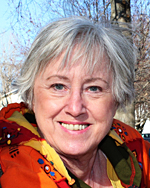 Jan Johnson, Sales Associate
Cell: 660.663.9541 or Home: 660.663.2319      [email protected]
As a Daviess County native, and a real estate professional with Landmark Realty since 2009, Jan recognizes and values the trust clients place in her and strives every day to exceed their expectations. Being a fourth generation of Daviess County and a genealogist and researcher, she is knowledgeable of the history of this area, plus historic information on homes and businesses.
Jan's first priority is to make clients happy. She listens to clients' wants and needs to achieve the best outcome in every transaction and works hard to ensure that the home buying or selling process is fun, easy and stress-free. Clients can count on Jan any time when they have questions or concerns.
Jan takes pride in being part of the community. She served as Director of Daviess County Library for 37 years. She has been a member of Gallatin Rotary, organist at Gallatin Methodist Church, Beta Sigma Phi Sorority, and other various clubs and organizations. She enjoys spending time with her family and six grandsons.
21020 State Hwy 6,
Gallatin, MO 64640
Office: 660.663.3294
Fax: 660.663.3263
---
Tina Esbeck, Broker
Cell: 660.663.9600
[email protected]
Jan Johnson, Sales Associate
Cell: 660.663.9541
[email protected]
Licensed in Missouri